This post may contain affiliate links. By clicking on any of the links below, I may get a commission if you make a purchase at absolutely no additional charge to you. This helps offset the costs of running this blog & I appreciate your support. Please see my privacy & disclosure policy for more.
This shop has been compensated by Collective Bias, Inc. and its advertiser. All opinions are mine alone. #PlayWithPlaymobil #CollectiveBias
Ways To Encourage Creativity In Children Through Toys
When shopping for toys for your kids whether they are in regular school or homeschooled, it is important that you choose those toys wisely. You may not know this, but choosing the right toys for your kids can actually help boost their creativity and in turn gear up their imagination. Below I share ways to encourage creativity in children through toys and how to choose toys that can help with their growth and development; as well as their fine motor skills.
After our recent trip to San Diego, and staying at a hotel right next to the fire station, the kids started to show curiosity and ask questions about fire stations and fire trucks.
I knew right away that purchasing the PLAYMOBIL Take Along Fire Station and PLAYMOBIL Rescue Ladder Unit would be perfect to further build their imagination and curiosity.
hover over image below to view item on the PLAYMOBIL website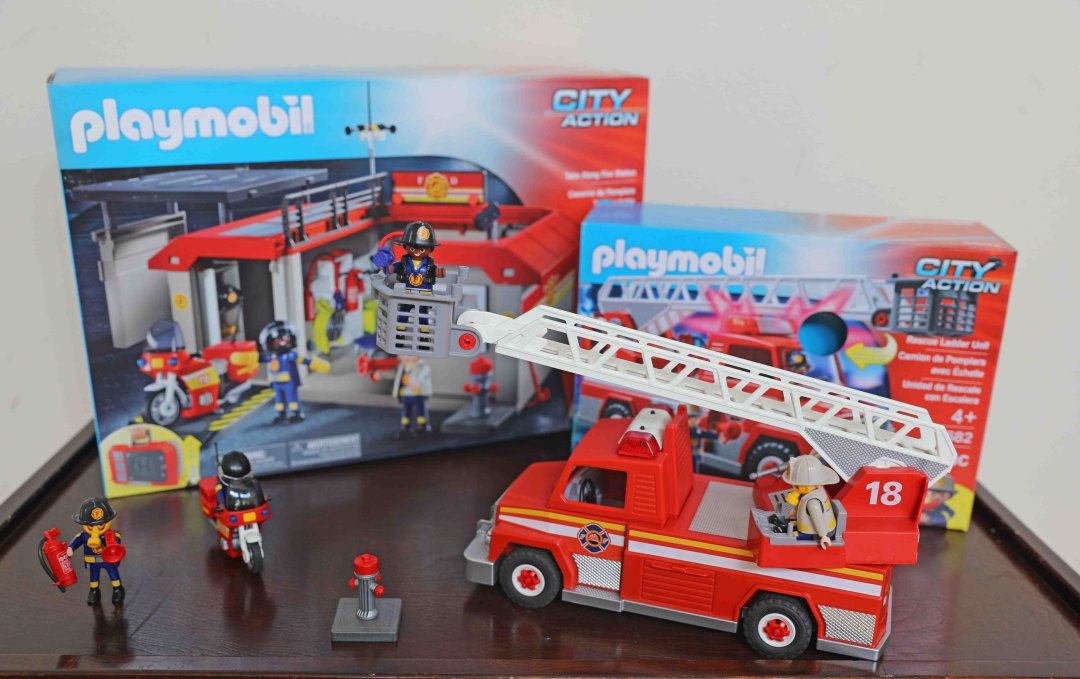 How Toys Can Help Improve Creativity
Toys aren't merely tools that keep your little one busy for a while, so that you can get done with your chores, they are much more than that. Apart from being the famous attention grabbers that they are, toys can also do a lot more. Toys can help boost your child's creativity allow them to explore and put ideas into action more effectively than you could possibly imagine.
It has been found that this creativity boost in children can in turn, also support children's cognitive development and help them develop communication skills as well as boost their ability to use any given information to solve problems.
[ Best Tips For Choosing The Right Homeschool Curriculum ]
How To Encourage Your Child To Play Creatively
1. Always have a clean and organized area for your kids to play
Before the kids start playing I make sure that they have cleaned and put away all other toys. This helps them concentrate on what they are working on.
2. Monitor your children
When children are playing together, monitoring them and even jumping in to offer support can be very essential towards building their curiosity. They may need help building something or may have further questions about what they are working on.
When playing with the PLAYMOBIL Take Along Firestation, the kids were surprised to find out that firefighters sleep at the fire station and had lots of questions about this, thankfully my husband was around to answer all the questions they had.
3. Don't be intrusive
Even though you have to monitor your children playing and be close by, you don't want to be intrusive. Offer help when they ask, however don't to impede their learning and thinking.
4. Allow your kids enough time to play
Don't put a timer on creative play. Let your kids play and enjoy themselves for as long as they need to. When you stop play in the middle, you may be hindering their process and thinking. If you know that you may not have enough time, then don't introduce the activity until you do.
The kids played with this play set for over 3 hours. They were so intrigued by the fire station and fire men and everything in between.
5. Be open minded
Kids may not always play with toys the way that they are meant to be played with, and that is okay. As long as they are playing safely, it is important to let them try out different scenarios and different things helps them see right from wrong.
6. Ask questions
Stop by from time to time during creative play and ask scenario type questions. This will help the kids think about things that may not have naturally occurred to them during play. This will give them other avenues to be creative as well.
7. Remember that representation matters
When purchasing toys for your kids that are meant to ignite their creativity, it is important to make sure that your children can feel represented. When the kids opened up the and found a brown firefighter just like them, they were so excited. Although just a figurine, it was one that they could relate to.
The kids absolutely loved playing their PLAYMOBIL toys. I as a parent loved the fact that they are high-quality so I don't have to worry too much are it getting broken. You know how it goes when you have several kid fighting to play with the same toy. I also love how well PLAYMOBIL play set helps develop not only their cognitive, but also their social and emotional skills.
You can find more awesome toys that encourage creativity in your kids HERE.
Homeschooling – Tips & Tricks
Thinking About Homeschooling – Where To Start
Where To Shop For Homeschooling Supplies
Homeschool Resources
Visit my Homeschool Resources page to see all the reliable and trustworthy brands that we use for our homeschooling journey.